The following 10 things to do once a year are all necessary duties to carry out annually in relation to our homes – interior and exterior. Not everyone can be domestic goddesses, but we can all take pride in our homes. And while we do vital things for ourselves and our health once a year, we sometimes neglect our homes.  The DIY Projects has put together a definitive article so that your home doesn't get left behind. Do these and rest easy. 
10 things to do once a year (for your home)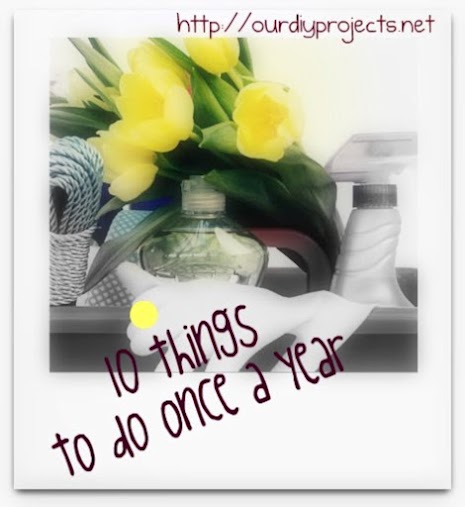 1. Move and clean behind appliances once a year
Clean behind your fridge and cooker and other large appliances in your home. I just heard on the radio today that rat infestation is on the increase. One pest controller said after he'd removed an appliance he found several hundreds of rats' droppings there. This is  the condition the family had been living in for some time. They weren't neglectful – just unlucky and unaware. Imagine if a child had retrieved a marble or some other rolling toy (infected with rats' dung) from behind the appliance! Moving appliances once a year gives you a chance to check on things like that, but more than this – it's good to get rid of the dust, food particles and other bits and pieces which fall behind our bigger furniture and collect there. I know I've found pieces of food behind my fridge last time we cleaned up back there.
2. Clean and paint your skirting boards once a year
They frame your walls and because most skirting boards are painted white, they get dull rather quickly. They're in the perfect position to take all the battering and bruising of moving things around the house, kids, running around and playing etc. They take the battering your wall would've had, if they weren't there. Because of their important function, they can make a remarkable difference when they look good. I'm sure they get cleaned often when you clean the floor, but who goes down on their knees to give their skirting a good cleaning, right? Once a year sand your skirting boards lightly and re-paint them. Here's a fabulous tutorial on painting wood in case you're not too sure.
3. Do furniture upkeep once a year
Polish, clean, and restore furniture. Don't forget to polish wooden furniture
 thoroughly. Restore leather couches and other leather pieces in your home. Deep clean fabric furniture by shampooing them and allowing them to dry naturally. This will not only get rid of lingering cooking/sweat smells that accumulate on our surfaces, it's also hygienic and good for the family's health. No one would wear a leather coat for a year without taking it to the cleaners – at least once. Yet we sit on our leather and fabric sofas and never think to clean them. As someone who owns a white leather couch – yes white – I recommend using a good leather conditioner
 several times a year to keep it looking great.
4. Refresh your curtains and blinds once a year
To refresh your curtains, place them in your dryer on the lowest heat with a fabric conditioner (fabric softener) sheet. Here are some heavenly smelling fabric softener sheets
 (pack of 105 sheets) which will give your house a spring-cleaned smell for ages. If your blinds can be wiped, do so with a damp cloth sprayed with a mild cleaner, or solution of warm water and non-bio washing powder. Deep cleaning doesn't have to cost much, even if it's some thing you do just once a year.
5. Light fittings need to be cleaned once a year
Clean all your light fittings for a new, bright look in your home. Clean bulbs (not hot ones or while they're on) with a solution of half water and vinegar to get rid of grime, grease etc. If you're thinking of replacing your lights or bulbs then www.brightlightz.co.uk is worth a visit for some good deals.
6. Declutter is top tip for things to do once a year
Declutter your home in one weekend
7. Make a family safety check once a year
In Britain some gas companies do an annual gas check for a very small fee. We have this check free for 5 years because we have a new boiler. Whatever you have to pay, it's really worth your family's safety to have this done annually. If you skip any of these 10 things to do once a year, make this one the one you do. Other safety checks to make once a year (at least)
Push that button on your smoke alarm to make sure it still works.
Check your carbon monoxide detector. As you know, carbon monoxide is odourless and colourless and can be fatal to an entire family without them even knowing they're in danger. It's crucially important for your family's safety.
Check your fire extinguisher and re-cap with your family what the steps are, should there be a fire in your home. My family has one. Each family should have an escape plan. Everyone should know where to go and what to do, should there be a fire in the house.
8. Do exterior upkeep and maintenance one a year
I know the last thing you're thinking about is winter, but this is the perfect time to prepare your exterior for the cold season. Do your annual exterior inspection and maintenance to prepare for the cold weather. Here are some things to do once a year in your garden and on the outside of your house. These posts are necessary to bookmark for every good home owner:
9. Check or install your insulation once a year
Insulate your loft if you haven't done so already. Save yourself some good dosh this year. Here's how to properly insulate your loft without spending too much.
10. Pamper your bedroom once a year
I love doing this last one. Look after your pillows. Have them cleaned (or wash them in the washing machine). Flip your mattresses. Take off all bed dressings, wash and hang outside to dry in the sunshine. You'll feel the freshness for weeks yo come!
If you found '10 things to do once a year' helpful please share it on your favourite social networking sites. If you have any more tips of necessary things to do for your home annually, we'll love to hear them in the comment box. DIY Projects is about sharing and making life taste better for our wider community. Please go to our Home Improvement page for more articles in this topic.