Interior design need not cost the earth. Many people have gone to extremes to make their homes beautiful, sometimes even getting into serious debt. This doesn't have to be the case. We can all achieve beautiful interiors with little things. These little things come cheap are easy to find. Here are 4 different ways you too can snap up something cheap to create a beautiful home that looks expensive and professionally designed.
Four little things for beautiful interiors
1. Newel caps and carved ornaments for beautiful interiors
Take a couple of carved ornaments which you can get for less than £1.00. Paint them.
Combine them with a newel cap. I got some from a shop (for the change in my purse) that was discarding them because they were old stock.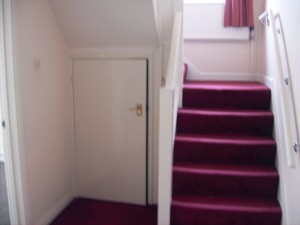 Glue the decorative, carved ornaments and the newel cap onto an old stair way. Sand and paint and see the transformation.
Tip: You can also use any type of carved ornaments on your doors and other places around the house. A good, DIY glue is all you need to attach them.
2. Window seats for tasteful, beautiful interiors
Window seats can add so much beauty to any room or area in your home. They're cheap and easy to make. All you need is a bit of sponge and some tasteful fabric. You may have some fabric lying about just waiting to do something with, but you haven't yet taken the plunge. A window seat needs just a little bit of material, but the difference it makes is remarkable. You can see the other fabric ideas that make for beautiful interiors at this page.
3. Floor stain is cheap and makes beautiful interiors
It's not always cheap to lay a new laminate floor. We haven't yet been able to do so. We can't have carpeting due to family-health issues. Our floors have always been wood, laminate or tiles. We stripped the old carpets out of every room when we moved in a little over a year ago. See the extreme home makeover here. After we removed the carpets we were left with raw, wooden floors that made us feel we were living in the saw mills (where they store freshly-cut wood). I got some cheap wood stain, and after removing all nails, staples etc and cleaning the floor thoroughly,  I allowed it to dry. It was then very easy to apply wood stain with an old  cotton rag. (I switched to a brush half way though because this made the job go faster).
In the picture above you can see the difference between the raw wood and the stained area. The picture below shows you the overall effect of the wood stain. One tin goes a long way. Note: wood stain dries slightly darker than it says on the tin. Alternatively, If you would prefer to replace your flooring then visit UK Flooring Direct online here.
4. Pay attention to details for beautiful interiors
Just thinking about doing something in your home to beautify it is not enough. You have to make an action list, not a 'to do' list. Write down not just what you want to change, but why you want to change it, what is going to make it better and the steps you're going to take in order to change it. Here's an example of something dull and boring (and old) that needed changing.
I decided this needed to look different. The white just wasn't working. I felt colours would look better. However, I didn't want to live in a house painted in several bright colours. A little goes a long way and this is what was going to be achieved. Now, I've always believed that stripes look great. I see them recurring on various scales in beautiful interiors. Here's what I did.
These colours were used in the hall, so they work perfectly for the side of the stairs. The method is simple. Put masking tape on surface in sequence. Paint parts you want and leave some unpainted. When the first colours are dry, cover them in strips of masking tape and paint the unpainted sections. You can choose to paint the colours all in equal width or use a mixture of wider and slimmer masking tapes . Remember you need to wait for the first layer of paint to dry before you use masking tape on it to protect it from the other colour.
Bonus tips for beautiful interiors
Beach stones (click on image to go to tutorial on how to make these)
Now you know how little things can make a huge difference to your home, you too can use them to make beautiful interiors from simple, affordable stuff that brings elegance to your home. If you have any questions, use the comment box below to leave me a message or use the contact form.  While you're here, why not check out the other home improvement ideas on this blog. As always, thanks for your visit and comments. Do come again.
What little things do you do to your house for a beautiful interior?
What little gem did you pick up for next-to-nothing  that changed the look of your house for the better?