Choosing and applying paint can be difficult if you don't know how. This article is going to give you some short, direct tips about choosing the right paint for the right job, and how to apply it properly. There are so many different paints on the market these days. A lot of them are very cheap and are even available in supermarkets for easy purchase. The first tip tip about choosing paint
 is to leave the cheap ones alone – unless you want to keep re-painting each year. Expensive paint are expensive because they're better, they cover more 'ground', the fade less and last longer. Take this advice from someone who's used both the cheap and expensive varieties of paint.
Choosing and applying paint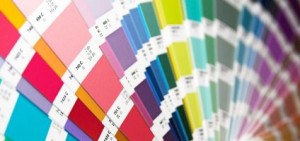 Recommended reading: How to paint a room
How to prepare walls for painting
Paint colours for your front door
Make your home beautiful with paint
Tips on choosing paint
1. Kitchen and bathrooms need specially formulated paints (ask at your DIY store) or you'll run into trouble with dampness and peeling paint.
2. Use eggshell or gloss for high-traffic areas like the stairs, living room, dining room and areas kids use often. These paints can be cleaned and washed easily. Matt paint can be used in adults' bedrooms and on ceilings and offices etc.
3. Use light colours for smaller rooms and avoid painting an entire room in a dark colour. Dark colours can be used as accents on one or two walls. You can always add accessories and other fabrics to bring colour to a light room.
4. The higher the gloss, the shorter the pile of roller you need. Choose your tools as carefully as your paint.
Tips on applying paint
1. Before buying your paint, invest in small, sample jars of the paint and apply it on the wall you intend to paint. Make sure you apply swatches of it on all the walls in the room. Light reflection can make a colour look darker or lighter than it really is.
2. If you intend to apply a dark colour paint to a wall from which no light is reflected, put a bed-sheet of a similar colour on the wall and live with it for a couple of days before applying the paint.
3. Ask at your DIY shop about the tools required for the job. Basically, you need rollers, brushes, trays, and masking tapes when painting. You can buy or borrow these, but make sure they're in good condition otherwise your paint will look like it's badly applied. It's better to spend extra for work that you have to live with for years.
4. Good preparation is key to painting, especially if you have to remove wall-paper before doing so. Here's an article on how to properly prepare your walls for painting.
5. Work out how much paint you need before you visit the shop. If you don't know, ask your DIY shop for help. If you have to use more than one tin of paint, use a large bucket and mix together before starting the job. This is to ensure you have the same shade of paint throughout.
6. Follow the right order in painting. How to paint a room will show you how.
Tips on getting the best result while painting
You may think it's a waste of time taking precautions while painting, but you'll be much better off if you follow these tips to give yourself the best head start (and fewer hours cleaning up afterwards).
1. Always spread something on the floor before you begin. You may think that a mat is enough for the job, but it isn't. You don't have to buy dust sheets. You can borrow old sheets or use old curtains etc to protect your floor and furniture.
2. Always seal your paint can and wrap your brush and roller in cling film when you take a break. If you're taking a long break, you can store the wrapped brush in a fridge. There's no worse thing than to paint a section of wall then realise you have half-dried particles of paint all over your new paint job.
3. If you have just a little paint left after the job is finished, it's best to empty this out into a sealable plastic or glass container. I've kept paint like this for years on end – in good condition. Store in a place that's protected from extreme temperatures.
Conclusion:
In order to get a great finish on your wall it's best not to skimp on paint or preparation. It's not worth doing all the work and having to do them all over again in a year's time. A great paint job can last for decades. Good paint can be washed over and over again without any change to the look or feel of it. Choose your paint wisely. Apply your paint in the best possible way and sit back and enjoy it for ages after that.
If you liked 'Choosing and Applying Paint' please share it on your favourite networking sites and/or send it to someone who can benefit from it. Thank you.
See more posts like this one on our DIY Tutorials page