We can thank the Romans for introducing the glass windows to our civilization. Their existence brought numerous benefits such as natural illumination, warmth and airing. However, they also pose some issues when efficient use of energy is concerned. Nowadays we have superior techniques for energy-conserving window methods and models.
You can either install brand new energy efficient double glazing, or treat the current structure with some retrofitting techniques. This will not only make your home sustainable and more energy efficient, but also put a good deal of money aside for safekeeping.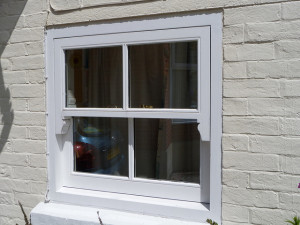 A guest post
Brand New Energy Efficient Double Glazed Windows
If your budget allows it, or the old windows are beyond repair, buying new double glazed windows is highly recommended. In order for an extreme home makeover to be truly successful, it's often less expensive to buy new windows, than to experiment with a variety of options that don't fix the problem in entirety.
The energy-efficient quality of the new installations mean decreased heating, air-conditioning and illumination expenditure. The important aspects to pay attention to are the layout, selection and operating types.
The Design of Your Double Glazed Window is critical
Prior to any acquirement or installation, it's important to make a proper assessment about the optimal type of windows for your needs. It is advisable to get acquainted with what determines window efficiency label. The climate you're located in, and house outline play a vital part in this decision.
Passive energy – provided by the sun – is another way windows can be utilised for generation of heat, coolness and light. The strategies for this type of structure differ according to climate and location, although the guidelines stay unchanged: pick, position and size it to gain maximum solar warmth in winter season and minimal in the summer.
Enhancing your Current Windows with Double Glazing Retrofit
The efficiency of existing windows can be raised by exploiting weather stripping or caulking as standard procedures. Covering and treatments are also widely popular and have their own specific advantages. The weather stripping and caulking can minimise the leak of critical points on the windows structure. The caulk is effective for immobile gaps and cracks, and joints sized below ¼ inch.
Weather stripping is more optimised for moving components. Treatments wise, the glazing method take the stage here with its one-of-a-kind properties for accomplishment of energy efficiency and some extra features. You may have heard about it so far, but here are some obvious advantages of double glazed residential windows:
the thermal efficiency is improved by up to 70%
it fits on the present structure without any drastic changes made
it comes in the size you want
the noise pollution is equally diminished, which is a bonus trait.
Basically, the process is relatively easy, you just have to ensure you made a solid plan, and choose the leading manufacturers in the industry.
Selection Procedure For Residential Double Glazed Windows
Several choices are at your disposal when it comes to choosing double glazed windows for your home. All components are invaluable parts of the ideal mechanism for your household:
1. The frames act as heat conductors and add to the U-factor values.
2. Glass or glazing treatments provide concrete benefits, custom size, climate-proof options and edifice design adjustments.
Operating Types of Double Glazed Windows
The struggle is real when deciding about operating types of residential double glazed windows. Some kinds have superior air leak built, so let's analyse it:
Awning is characterised by top hinges and outward opening. Due to sash closing using frame pressure, the leakage is lower than with sliders.
Casement has side hinges. They are often likened to awning type for the presence of the same sashing mechanism that presses against the frame.
Fixed are the window-panes that have no opening function available. They are not to be placed in areas that need ventilation, but they are all-around solidly built.
Hopper is distinguished by bottom hinges and inward opening. Awning, casement and hopper share the sash related traits.
Single hung has sash slides that turn upward but only at the bottom, while double hung has both sashes do it. The leaks are higher in these.
Single sliding have one while double sliding have both level-positioned sash slide. The leakage is similarly higher in these types.
If you want to make the most of when choosing energy efficient double glazing windows for your home, examine the key matters we have gathered for you, order quality products and work with true professionals on the installation for the results you'll be more than happy with.