Gardens are places of tranquility, retreats where one can relax and rejuvenate. A garden path is not just a safe route for getting around your outside space: it also adds charm and life to the green sanctuary. But, the visual appeal is not the only consideration one should make. Paths differ in terms of ease of creation and maintenance requirements. Mosaic tiles, for example, are a striking spectacle, but very time-consuming to set up. One can go with something less labor-intensive and expensive. After all, there is a bunch of creative ideas for garden paths, and here are some fresh ideas that are stealing the show.
A gravel path

This one is a simple, natural-looking and inexpensive garden project. Gravel is a traditional path material used throughout the world, and to make such a walkway, one has to dig down a few inches, making space for the pebbles. They can take many shapes, and is not prone to cracking and heaving. This means that appropriate base is paramount to its structure and stability, while the edge helps in containing it. When it comes to the width and the material between the edges, there is a freedom of choice, so gardeners should get their creative juices flowing. Some people opt for lava stones, crushed granite or cast-off shells.
Stone medallions

For a great accent pathway, people need not look any further than stone medallions. These pieces are inserted in a pre-existing path, meaning that the spot should be cleared and the soil stamped. Some necessary tools in the arsenal are miter saw, hammer, tamper, measuring tape, and polished pebbles. The process starts with creating a square border with strips, as well as installing quadrants and sections that form a diamond shape in the middle. Next, fill the inner space with sand and insert polished pebbles. Their size and color are means of assembling patterns that spark attention and draw the eye to the ground.
Stepping stones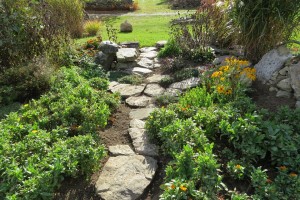 Those who hit the wall with creative ideas can let the stepping stones lead the way. The mainspring of this project is an appropriate mold. It is possible to utilize a plastic planter sauces or even cake pans and other household items. What comes next is mixing up the concrete and spooning it into the mold. Tap around the outside, remove any air bubbles, and leave it for an hour before moving to decoration and painting. Now wait for a day to let the concrete dry. One can make many different stepping stones, from those that look like buttons, to tiles that resemble Nintendo Entertainment system.
A mosaic pathway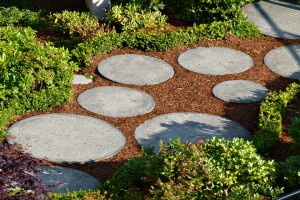 For something off the beaten path, embrace the art of making mosaics. They serve as an unexpected, whimsical outdoor focal point, but usually take more time than other projects. Pull together a gravel mosaic with colorful pebbles, or go for a bohemian arrangement on the larger section of the pathway. Note that a variety of colors is not an absolute must for mosaics. Stunning patterns can be created with one color of differently-sized and aligned stones. In any case, a mosaic path transforms unappealing gardens into favorite places for hanging out and causes quite a stir in the neighborhood.
Sandstone solution
When thinking outside the box, one finds a plethora of amazing options. One of the greatest solutions is to acquire some quality sandstone tiles. They are a visual treat, although gardeners must cut them to fit into the pathway.  Depending on their thickness, a chisel and a hammer or power tools are required. Cleaning the edges is crucial before laying the tiles down and ensuring they are held firmly in the place. Some people decide to make different shapes, and use sandstone to make stepping stones. The letter allows creative touches like leaving few-inch gaps between tiles to cover them with small flowers.
Rock solid ideas
Garden stone paths come in a wide array of styles that fit any taste and outline. They can be a nice finishing touch or a majestic focal point that turns around the aesthetic value of the garden. Stone is a durable material, but also versatile enough to offer many possibilities, from mosaic-tiled pathway to simple gravel lanes.  The choice should complement the symphony of colors present, and landscape design. So, let the creativity illuminate your path through the garden and treat yourself with a mesmerizing outdoor environment in which to spend some quality time.
With enough skills, these DIY projects are easy to achieve. Also, don't feel limited to these ideas. They are a great starting point. Brainstorm and share your designs