Ice House! is a not one of our usual articles published here on DIY Projects. It's just a fun post to highlight some of the amazing ice house designs (if we could call them designs) and other fabulous ice art  I've seen out there. If you've found a picture of some really good ones to add here, please let us know in the comment section and we'll do our best to include the ones that fit.  All the images have been linked to the sites from which they were found, so all you have to do is click on them to see where they originate. When you've looked at this article of some extreme art, check out our extreme home makeovers page. In the spirit of this season DIY Projects now proudly presents:
Ice House!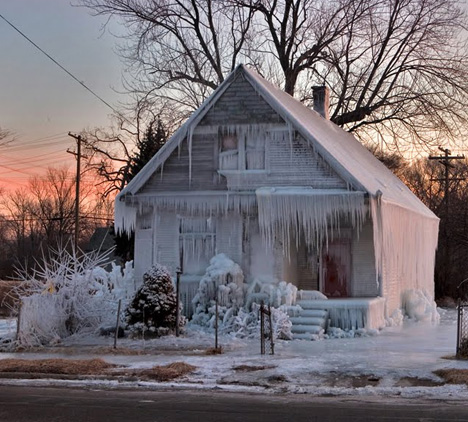 This above ice house is a statement of art which was done to highlight foreclosures in the city of Detroit.
Another angle of the same ice house. This is an amazing piece of art work, admirable not only for its quality, but for the message it calls our attention to.
Have you ever seen a broken down, abandoned house look so beautiful?
This one is not so much of an ice house. It's more of an ice castle. If you ever wish to go on an ice holiday…
The above is some people's idea of a fun holiday. Go freeze your bottom off in this amazing ice hotel. I don't know about you, but there's no way I'm paying someone to give me the most uncomfortable night ever. Besides, when it comes to interior design, I prefer warmer colours. Don't you?
I don't care to see the inside, if the outside looks so uninviting.
This is the reason I don't like going to public toilets. 🙂 You never know what's waiting for you on the inside. I'm sure you saw my hole-in-the-ground-toilet picture I took on holiday.
So, have you seen a beautiful ice house (or hotel) lately? What would be your perfect ice sculpture to photograph and have you seen any ice designs you'd like to replicate? If this is your first time on DIY Projects, please look at our wonderful page of affordable things you can make for your home. If you've enjoyed Ice House!  Please share it on your favourite networking sites. As always, thanks for your visit and your comments.