Most people love to soak and relax in the interior surroundings of their homes and therefore choose to install indoor hot tubs. However, the installation of indoor hot tubs can be quite challenging compared to the outdoor hot tubs. Ever since ancient days, civilizations have discovered the health benefits of soaking in hot water tubs and even today hot water tubs and spas have multifarious health benefits. It is known to soothe and rejuvenate the body and the mind.
This is a guest post
Indoor spas and hot tubs have many advantages over the outdoor hot tubs. Indoor tubs are easy to use and offer better privacy. Although most people prefer to install hot tubs outdoors there are many others who choose to install these tubs in their homes. It is then quite essential to consult a builder or qualified architect to install these tubs inside with professional assistance. There are many factors to consider while installing these tubs inside homes and spa facility centers.
Things to Consider before installing indoor hot tubs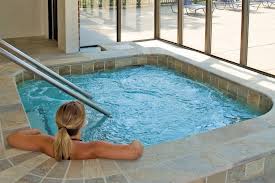 Size and shape of the hot tub: It is essential to consider the size and shape of the hot tub before installing it indoors as it requires considerable amount of space for installation. It is also essential to buy hot tubs from reputed and reliable dealers.
Flooring: Another important factor to consider is the flooring of your home or indoors. It is essential to avoid slippery floors and choose good flooring materials such as non-slip and matt finish floors. Wet floors can be quite dangerous. Moreover, the area should be well-ventilated to prevent the growth of mould and rot. The floors need to be strong enough to support the hot tub as it is quite heavy. The hot tubs need to be supported well so that it will not fall off. It is also essential to obtain the services of an electrician to wire the hot tubs. The floors should be easy to clean and drain.
Water source: A convenient water source is quite essential to fill the hot tub with water.
Maintenance: Hot tubs should be maintained well with hot tub chemicals as these tubs are prone to bacteria and germs. There are various types of spa chemicals made available through online stores at various price rates. Hot tub filters should also be cleaned and maintained regularly.
Ventilation: While installing hot tubs indoors, there must be proper ventilation. Strong vent fans should be installed to dry up the room quickly and eliminate moisture. But it is essential to install quiet fans at the right location for best results.
Odorless chemicals: It is essential to use odorless chemicals to clean your hot tub, as the odor of some chemicals can fill the entire home causing irritation and inconvenience to others.
Indoor hot tubs can be installed with the assistance of a good contractor as this can be a very complicated job. Safety is also very important, so if you're doing this as a DIY Project you should plan on budgeting for professional building help, especially for the measuring and installing.