Do you have adequate and attractive lighting in your bedroom? Bedrooms in general have gone a long way since merely amounting to rooms reserved exclusively for sleeping. Nowadays, they serve as dressing rooms, libraries, workplaces, and even places for exercise. This is why it is crucial to understand the necessity of proper lighting inside your bedroom. While soft ambient light is necessary for providing a relaxing refuge, chances are that you'll need this room for more than simply resting, which entails the need of a focused light in order to complete all the necessary tasks.
(A guest post)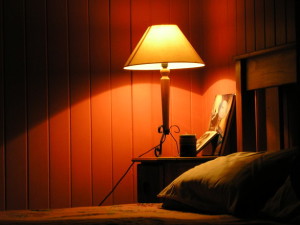 Light your bedroom simply
A surface-mounted ceiling light is the simplest, yet, by far the most robust way of keeping the bedroom adequately lit. A soft, diffuse light is what this type of lighting fixture offers, often proving for a flat effect, which is a tad too flat for modern requirements. However, compliment this type of lighting with a clever mix, and you can light your bedroom not only cheaply and simply, but also quite effectively. This is by far the simplest way of providing proper lighting for your multi-purpose bedroom.
Use dimmers for bedroom lighting
As we move on deeper into the subject, things get a bit more complicated. Although dimmers are a thing of regularity nowadays, not every lighting fixture or bulb is compatible with these. Dimmers, however, are a perfect way of providing a quality bedroom lighting solution. They are flexible and give you the ability to control the amount of light inside a designated space. Fortunately, there are many budget solutions when it comes to dimmers. On the plus side, you probably won't need any extra lighting fixtures if you opt for this technology – not unless you're planning on having a work desk inside your bedroom.
Down-lighters are not so bright
Commonly known as down-lights, 'Can lights' do tend to look great inside a shop, but once you've gotten around the delusion of over-exaggerating the value of something you've freshly bought, you'll come to realize that the only thing these are good for, is for lighting the floor – something less than desired. Furthermore, when you're lying in bed looking straight up into the can light, you'll see that the glare they provide is definitely not something you're looking for in a bedroom. To top it off, most of these aren't dimmer-compatible, so getting the down-lights is a definite no-no for lighting your bedroom. If you are really into these, well, you can hang them in your living room.
Bedside lighting for your bedroom
No matter what you use your bedroom for, (aside from sleeping) bedside lighting is a must-have. They are flexible and quite fun to select. They are also very easy to install and change. These come in many shapes, forms and sizes – wall-mounted lights, pendants, adjustable task lamps, or your basic table lamps – you name it! Naturally, you should always get one for each side of the bed and match them properly.
Wall lights for your bedroom
A good way to light a bedroom is to wash your walls with wall lights. These provide for minimal distraction and usually come compatible with dimmers – a perfect solution for manipulating the atmosphere you want in your multi-use bedroom. Furthermore, this type of lighting provides for a soft illumination, but also works perfectly for wall art and other wall decorations. The only advice we can give you here is to select the largest white wall for placing your wall light, and to refrain from putting it up against the bed wall.
Night lights
It is only natural that we sleep in darkness – it is in our genes and in our biology. However, if you have stubbed your toe in the darkness one too many times, perhaps opt for hiding a soft light under an object, such as a table, a bed, or skirting. The fun with these rests with the fact that they are motion-triggered, so once you're safely inside the comforts of your bed, you can catch some healthy shut-eye in complete darkness.
There is more to lighting when it comes to bedrooms than merely installing a unit on your ceiling – in fact, there's a whole art behind it. Follow the advice of this guide and choose a perfect light to your liking. Oh, and forget about those ceiling can lights!
If you enjoyed 'Lighting your Bedroom' please share it on your social networking sites. Thank you.