One of the things that make a bedroom look finished is a headboard for your bed. It doesn't have to be expensive at all. It just needs to be the right kind of headboard to go with your bed and your room. As you can see in the picture  below, this room looked sort of unfinished without a headboard. If you find yourself in the same situation, now's the time to make your own head board simply and cheaply. Staying true to our aim to make your home improvement easier, this article will now show you how to easily make your own headboard cheaply and quickly. 
Make your own DIY headboard for your bed
What you need
A headboard
left-over material
staple gun
and staples
This old headboard above was found in our loft. It was left there by the previous owners. It was old and stained – a bit rickety, but otherwise structurally sound. I thought it would serve my purpose well. I had to re-position one of the vertical slabs because the bed was a different size than that of the original, but this was very easy to do.
If you're taking on this project, and you don't have access to a headboard, you can purchase one from a second-hand shop or make one if you're able. After cleaning the old headboard, I used a staple gun to cover it with soft fabric. This was cut from an old 
blanket 
we don't use any more. The reason I did this was because I wanted the finished look to be soft to the touch, and I wanted to prevent sharp sides of the wood from sticking out in an unwelcome manner. This was a child's bed, after all.
With the headboard covered completely in the old, soft blanket, it's ready for the finishing touch.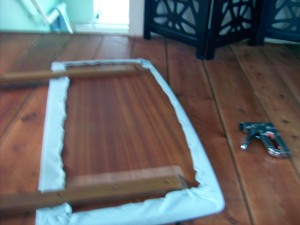 Use the same method and cover your headboard with the material you wish.
This final material was  left over from some window curtains we had made years ago for our living room. This curtain now hangs in this bedroom, so it makes perfect sense to cover the headboard with it.  You can see the rest of this bedroom here: Kids Bedroom makeover.
Now the bed finally looks finished and this corner of the room looks a lot better, and more attractive than before. 
Over to you! Go on and make your own head board.  See our stuff to make  for more beautiful interiors ideas.