Make your own wall storage

 will show you how to create that extra space cheaply and in a short length of time. This wall-storage (below) can be seen in one of the kid's bedrooms makeovers. It's easy to make and is cute for a girl's bedroom.
They can store little things like hair bands, brushes, hair pins, nail polish, skin cream, sewing implements, pencils, bits and bobs – just any clutter you want to remove from surfaces. Best of all, it's free, pretty and functional. You can make it from existing pieces of scrap material you have hanging about, and a spare hanger. Here's how you do it.
Make your own wall storage for free
COST: £0.00
TIME: 1 hour or less
The first two pictures show what your wall-storage looks like on the wall. The choice is yours when it comes to material. What you need to begin with is a piece of cloth that's long enough to make the back part. Shown here, it's the red material in the picture. We'll call it number one.
Make number one as long and as wide as you want, but make sure you have about four inches of material to spare for the top of this wall storage unit.
#1. Fold the top two inches down.
#2. Cut a hole in the centre big enough to pass the top of the hanger through.
#3. Hem the hole so it doesn't fray and sew the two bits of the folded material together, keeping the hanger between them. The hard part is done!
Note: I used a skirt hanger for this wall storage unit because it's straight at the top and I like that effect. It also uses up less space at the bottom of your 'number one' because it's not triangular.
Make your own wall storage unit – finishing it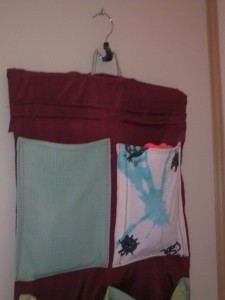 After you've done this, get various pieces of scrap cloth and sew onto the number one material. Make sure there's a mixture of small pockets and big ones. Small pockets can be simply sewn on as normal like these top ones. Bigger pockets are more useful and they need to be pleated at the sides like the plaid ones below. They hold more stuff this way.
Options for your wall storage unit
Leave the bottom of the number one material free for any design you like. You can cross-stitch a pattern, add more pockets, sew on a decorative margin (like the one above) or just leave plain if you wish. This particular red material was an old table runner so it came with the triangular designs you see here. I used this to my advantage and left it as a decorative statement for my daughter's wall storage. See other ways to beautify your home with fabric here.
Conclusion: make your own wall storage unit
This wall storage is great for caravans and small bedrooms – in fact, it could be adapted to fit any space whatsoever. You could redesign it and add bits for your own use. It won't take you a lot of time, but if you are stretched for time, see the wall storage hanger already made for you from Amazon. These wall storage hangers make a great gift and tidy up your house at the same time.

See more crafty things you can make for functional and beautiful interiors.
This post was supplied by Morganne Leigh who writes at Speed Loan.