Office remodels needn't be difficult or complicated, and decorating your home office space doesn't have to cost a fortune. With a can of paint and a few easy-to-implement tricks, you can create a space that's perfect for you and your budget. Here are some simple DIY ideas to transform your home office into a fun and functional area where you will be happy to get some work done.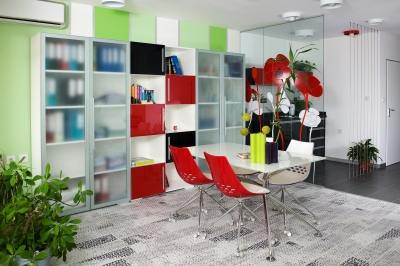 The one thing that's crucial for office remodels
Is there such thing as not having enough storage in a home office? Thankfully, a custom storage solution doesn't have to cost a fortune. Stores like IKEA and Home Depot offer several shelving solutions that you can build or simply hang on the wall. Place two or three small wall shelves together on a large wall, or use one long shelf if you have a smaller space. Make sure you maximize your home office space by creating storage for your office equipment, paperwork, and clutter. Simply clearing away clutter will make your office feel clean and new.
You may need to customise when doing office remodels
A desk can make or break your home office. If it isn't functional and stylish, odds are you're going to dread sitting behind it all day. An original and easy way to customise your desk is build it yourself. Not handy with a saw? No problem! Find a used door (or purchase a new one at the hardware store) and add legs. You can purchase pre-made legs or you can take a non-traditional route and use two saw horses or antique balustrades. Don't be afraid to let your creative flag fly when creating your desk.
Create an office out of a closet
If you need a home-office but don't have a room to devote to it, try turning a closet into a work-at-home space. You can see this in action at this link. The doors can be closed when you're not working to hide office equipment, but when the doors are open, you have everything you need to get to work. Utilize prefab closet shelving units to make a desk surface, shelves, and drawers. Finish it off with an ergonomic chair and you're ready to work. You may also want to read: Solutions for Tiny Spaces. This is a really useful article if you live in a small house/flat.
Best way to deal with clutter when you're remodelling your office
Does paperwork accumulate on your desk? Consider creating a magnetic or cork board for the wall above your desk. Use it to hold notes, pictures, paperwork, take-out menus, and other items that can clutter up a desk. Cork boards can also be covered with a bright or patterned piece of material from the craft store to give it visual interest. Simply cut the material to size and glue it to the cork board to create a clutter buster with a pop of color.
The easiest way to transform your office in a flash
Few things transform a room like a fresh coat of paint. Select a soothing color that motivates you to work. Try a two-tone look, or stripes if you're feeling a little adventurous. Painter's tape makes creating custom paint designs a cinch. If you're hesitant about using bright colors, try creating an accent wall with a daring color and paint the rest of the room in a neutral shade; that way, if you decide you don't like the color, you only have to repaint one wall.
What DIY projects have you done to your home office? Share your thoughts with us.
Sarah is the Content Manager and a Writer at Virtual Vocations, the one-stop shop for telecommuters looking for legit jobs. With several years of marketing and writing experience, Sarah managed a group of freelance writers for a marketing firm before venturing out into the telecommute world. Follow Sarah on Twitter, Google+, and Facebook.
 If you enjoyed, 'Cheat Sheet for Office Remodels' please share it on your social networking sites. Thank you.