Welcome to our extreme home makeover. We have some striking (from both extremes) pictures to show you and some equally remarkable articles on home makeovers – our way! On this page you'll find  links to the various articles (with pictures) published on DIY projects, detailing our personal experience and experiments. There are pages of  diy tutorials and home-improvement elsewhere on this site, so please don't leave without looking them up. You are joining us in our journey to making an old, deserted house a family home we can love. We call it our extreme home makeover because the changes from old to new are so remarkable, they're unrecognisable. 
Extreme home makeover articles and pictures are being added regularly as the rooms are being finished. Come back and take a peek at what we're up to with our make-over. Don't be shy about sharing your own stories too!
From this…
and looking the other way, to the other side of the wall…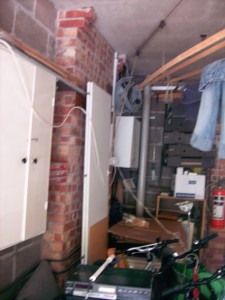 …to this – a new living space
Our extreme home makeover links
These links below will take you on a tour to individual parts of our house, with before and after pictures of our extreme home makeover.
Dining room and kitchen makeover
Landing And Stairs Extreme Make Over
As you can see, this blog is about home decor, DIY jobs, home makeover and design. However, if you need to do some heavy building work done, and you're in the West of England, you can visit this site (our builder – Westbuild) to see some of the transformational work they've done. Please feel free to look around some more. Leave me a comment on the individual posts, and share them if you find them helpful. Thank you – as always.