Do you know how to prevent wear and tear on your favourite pieces of furniture? When it comes to making your home feel warm, cozy, and welcoming, furniture plays a huge role in creating the right ambiance. The type of couch you choose can help your home come across as either vintage or modern, and the right upholstery can create a cool, calming vibe or an energetic and friendly one.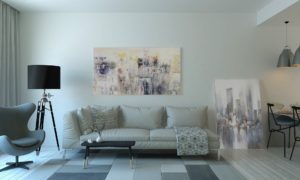 Furniture naturally deteriorates over time, but that doesn't mean there aren't ways to prevent wear and tear on your favorite pieces. To help you get the longest life out of your furniture, here are a few things to keep in mind:
(A guest post)
There's A Right Way to Clean Furniture
Cleaning your furniture is essential in keeping it good shape, but if you go about it the wrong way, it can have the inverse effect. Research the materials your furniture is made out of so that you know how to clean that specific fabric or type of wood.
For example, multi-purpose soap and household cleaners could leave your upholstery and wood stained. Sometimes, even upholstery cleaner can damage certain fabrics, as some materials call for dry-solution cleaner only, and others require professional cleaning every time.
The cleaning requirements should be listed on the tag on your couch or chair (they can come in codes labeled as W, S, SW, or X), and likewise. The supplier of your wood furniture should also provide you with adequate instructions. If you're dealing with an heirloom or any furniture that doesn't come with cleaning care steps, a professional at an antique or vintage furniture shop may be able to give you some advice, and if not, investing in a professional's help may be your best option.
As with using any new product, always test the cleaner/polisher on a small area first so that if a negative reaction does occur, the entire piece of furniture isn't ruined.
Dust and Vacuum Furniture Routinely 
Letting dust, debris, dirt, and grime build up on your furniture will not help your efforts to keep it looking sharp, so it's important to make dusting and vacuuming a part of your regular cleaning routine.
The fabric you choose is often what makes your home beautiful, but when dust and dirt become embedded in the fibers of your upholstery, they're more likely to become damaged and wear down. Vacuuming lightly over the fabric helps with this. You can go one step further to prevent wear and tear on furniture by placing a machine-washable slipcover over your chairs and couches. Many couch cushions have detachable covers on them already, but they may shrink if you put them through the washer and dryer, making an external cover your best bet.
On a similar note, dirt and debris can settle into the creases of leather material, making it look dull and rugged. Luckily, leather is an easy material to dust and vacuum, but as always, read the care directions that your furniture comes with before diving in so that you fully understand the do's and don'ts.
Dust and dirt will also damage your wood furniture's surface and finish if neglected for too long, but you want to make sure you're using a soft and clean lint-free cloth, as an abrasive one could create scratches of its own. To prevent any damage from dry-dusting, you can moisten the cloth with a bit of polish that is approved for the type of wood you're working with.
Awnings and Window Films may Minimize Sun Damage
Letting sunlight into your home can certainly uplift the mood of any room, but too much subjection to the sun's harsh rays is not going to do any favors for your favorite pieces of furniture. Overexposure to sunlight can cause leather to dry out, crack and fade, fabric to lose its coloration, and wood to become discolored and its finish to crack.
Obviously, you can avoid putting your furniture right in front of windows to minimize sun damage, but the sunlight is still going to get in. If you're looking for a DIY option, home window awnings are a great way to provide relief from the hot sun entering your home, and placing these over your windows can help shade your furniture from damaging UV rays. Quite a few models are easy enough to install yourself.
Many homeowners have also found placing window film onto their glass windows to be highly effective at slowing down the fading and degradation process, but the installation can be complex and usually requires a professional to get the job done.
Rotate Furniture Regularly to Avoid Damage
At the end of the day, it's not possible to escape all forms of wear and tear on your furniture. You can minimize damage, but you can't ever fully prevent it.  As time passes, your fabric will fade a bit, and your wood will inevitably accrue a few scratches here and there. Rotating your furniture on a consistent schedule will help the wear happen more evenly and appear more natural.
For instance, turn your table every month or so to make sure that all sides receive equal exposure to sunlight. This will prevent one side from fading more rapidly than the others.
On a similar note, if your couch design allows, flip your cushions over and fluff them every so often as well. This will delay the "sagging couch syndrome" from occurring prematurely, and it will also help any discoloration and wrinkling spread gradually and uniformly.
Temperature and Humidity Matters
To give your furniture the best possible future, it's important to make sure the temperature and humidity levels in your home stay as consistent as possible. Extreme changes in weather and humidity can cause changes in your furniture's appearance, mainly with wood.
When humidity levels are high, wood can swell, and when they're low, it can shrink. Drastic changes can also cause cracking and splitting.
To prevent this from happening to your beautiful wood pieces, it's recommended to keep your indoor temperature between 60 and 80 degrees and your humidity levels between 55 and 65 percent humidity. This can be done by using a heater and humidifier in the colder months and using AC and a dehumidifier in the warmer seasons.
There You Have It!
Hopefully these tips give you a start to understanding how to best care for your favorite furniture. Whether you're looking after a sentimental family sofa, a brand new love seat, or a one-of-a-kind vintage coffee table, you'll fare much better if you can be consistent in the tactics you use to prevent wear and tear on your furniture. Happy lounging!