How To Protect Your Home in Cold Weather will show you some of the main ways in keeping your home safe at this time of year. I got the idea to write this post when one of my friends – a new mother – found that her boiler had stopped working, leaving herself and baby freezing in the winter. Not only had it stopped working altogether, but it had done so in the coldest days we've had so far this winter, and it had done so when her husband was away in another city. Typical!
Cold weather can cause not only discomfort to yourself and family, it can also cause damage to your home, which in turn can leave you with unexpected bills. Here are some simple ways to keep the big freeze at bay.
How to protect your home in cold weather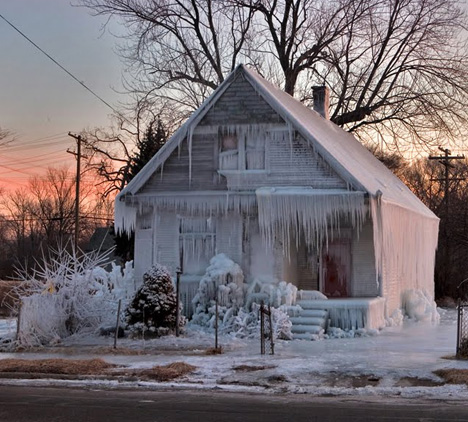 The trick is to get some vital things done before the cold weather sets in.
How to protect outside your home in cold weather
Clear out all the autumn leaves and moss from your guttering. You can do this yourself or hire someone to do it for you. Clear gutters vastly reduce the risk of blockages and breakages in this cold weather. If you haven't done it yet there's still time.
Broken or missing tiles can affect the durability of your entire roof. The last thing you want is to be caught off guard in the winter where leaks are concerned. Hire someone to take care of any maintenance roof-work. Again, if you haven't done this yet, there's still time to protect your home from leaks in winter. Do you know what to do in case of emergency leaks?
If you have exposed pipes outside, make sure they're all properly insulated. Broken pipes can seriously damage your home. If you already have frozen pipes, drape hot water bottles on them until the water starts flowing again. Alternatively, you can wrap them with towels soaked in hot water. When you've been able to thaw the pipes, you should get some insulation as soon as possible to protect your home. It's also a good idea to repair dripping taps to save on your bills.
Heavy snowfall can cause damage to your roof by putting too much weight on it, especially if you have old roof tiles. Nevertheless, do not go onto your roof to clear snow fall. Arm yourself with a long rake and only remove as much snow as you can safely reach.
How to protect inside your home in winter
As we said before, protecting your home in winter starts before the cold months creep in. In order to protect inside your home you need to know how to turn off your gas, electricity and water. You don't want to have to learn this in the middle of an emergency (and they do happen). 
It goes without saying, service your boiler yearly before winter sets in. You can get a really affordable boiler-servicing deal from your energy supplier.
Learn the tricks of draught-proofing or  insulating your home.
Protect your home by insulating all your water tanks and pipes. This also stops heat from escaping and saves you money.
Your water tank in your loft needs rising heat from the rest of the house to keep the water from freezing in extreme temperatures (especially at night). Make sure that no loft insulation is under it, blocking this heat from getting to it (you can learn how to insulate your loft here).
Make an emergency box. Pack a plastic, sealable  box with some stuff you may need in extreme cold emergencies. Make sure the members of your family know where this box is and top it up each year. Items can include: torchlight, baby stuff, tinned food, blankets, important phone numbers, first aid kit, vital medications like inhalers etc, matches and candles, pet food,  radio and batteries etc.
Now you're armed with some general ways in protecting your home in cold weather. Make sure you check that you've done these because you still have time to make a difference. What are some of the ways in which you protect your home in cold weather? Please share them with us in the comment boxes below. As always thanks for visiting DIY Projects. Please share this article on your favourite social networking sites and make us smile 🙂
You'll find other articles like this one on our exterior designs page.