Before we look at uses for baby oil in housekeeping, answer this question: If Olive oil is made from olives, coconut oil – from coconuts, crude oil – from crude (you've got to know I'm kidding right?), and corn oil is made from corn, what is Baby Oil made from?
We've taken a short break from DIY and decorating type articles to focus briefly on some housekeeping matters. Following in the footsteps of Uses of Vaseline Around the Home and Uses of Salt in Housekeeping, I wanted to address – in the same vein – uses for baby oil in housekeeping.
Have you ever used baby oil in the following housekeeping/DIY ways? Please feel free to share other ways you can use baby oil when it comes to the home.
Uses for Baby Oil in housekeeping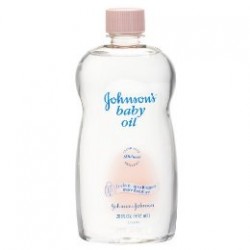 Baby oil is good for chrome surfaces, so if your sink is looking tired, or you're getting ready to sell your house, (or just  cleaning)  use Baby Oil to polish your chrome sinks and taps (faucets). First of all, wash down your sink and taps normally, then dry them with a cloth kitchen towel.  Put a few drops of baby oil on a soft cotton cloth then get to polishing.
Collect up all your items which have sticky price labels left on them.  Put a few drops of Baby Oil on an old rag and gently work the unsightly sticky stuff off. Baby Oil can also be used to remove glue residue left on kids' work-tables, and for cleaning dried ear wax around the ears. Instead of using an ear bud or swab, just put a drop of Baby Oil on a cotton ball and rub off ear wax which sometimes collects around the ears. This way safety is assured.
If you haven't got your trusted jar of Vaseline (we discussed a similar use for Vaseline in an earlier post) use  Baby Oil to remedy your squeaky doors and stiff window frames.  It's a cheaper version of WD40, and works just as well.
Leather bags and shoes will keep preserved and shiny.  Put some Baby Oil on a cotton ball and rub in evenly.
Baby Oil is a cheap and useful polish for hub caps. It keeps them preserved, protected and shiny. Don't put too much on though, as you don't want them to become dirt magnets. Having said that, whatever dirt collects, seems to wash off extremely easily.
Buff up your golf clubs with a bit of Baby Oil. If you have chrome-plated golf heads, Baby Oil is perfect for cleaning them. Just put a few drops on a soft cloth and rub in after each game.
Other ways to use baby oil in grooming and personal care…
Use a few drops of Baby Oil to clean greasy surfaces in your shed or grease on your hands. This is why it's a good idea to keep a bottle of it in the car with a roll of paper towels. It works wonders to get the grease off your hands after you've changed a tire.  Just gently rubbing the grease with baby oil, gets rid of it like a charm.
On cold days, rub some Baby Oil on your exposed skin. It puts a barrier between you and the cold air by working as an insulator. Not only will it prevent your cheeks from drying out, it will also keep you warm. A note of caution is not to use it in hot weather, as it will work as an extremely fast tanning lotion (without the UV protection) and make you burn really quickly.  This is obviously not a healthy practise.
Add a few drops of Baby Oil in your bath water.  This gives you smooth, silky, baby-soft skin for the next 24 hours.
Just rub down your legs with a layer of Baby Oil before you shave to give a silky touch when you're finished.  Okay, I know this one is assuming you're a woman and that you shave your legs.  However, if you're a guy you should try it too, who knows, you might even like it. You won't be the first guy to shave his legs, I'm sure.
And now for the extra one: When baby has had a particularly bad number two, squeeze some baby oil directly to the bottom as this will help with the clean up, and would mean that you don't have to wipe baby's soft skin too hard.
If you learned something new from 'Uses For Baby Oil In Housekeeping', please share it on your social networking sites. Also, don't forget to have a look at our other Housekeeping articles in this pre-Spring series.