Vaseline uses around the home extend to so much more than you can imagine.
Vaseline is the branded name for Petroleum Jelly. The raw material for this versatile product was first discovered on an oil rig in Pennsylvania, USA. Through the years we have found some remarkable uses, and have discovered numerous cosmetic advantages for this amazing every day product. It's a huge challenge to find a simpler product with the more varied uses than Vaseline.
For this reason, today we'll look at some chores, cleaning, and DIY jobs you can use Vaseline for. This is a continuation of our recent housekeeping series ahead of your Spring cleaning jobs around the house.
Vaseline uses around the home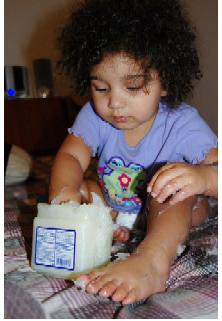 1. Vaseline works like magic on your squeaky door hinges.  It also protects them from further rusting. Instead of expensive WD40 and other similar products, just apply some Vaseline with an ear swab (cotton bud) on your creaking door hinges and leave it there.
2. Lightly spread a bit on the soft pads of your cat's paws so that he/she can lick it off while grooming.  The secret to this is that it reduces retching when they're expelling hair balls. This means less cleaning up cat puke from off your lovely carpet – better housekeeping for you.
3. Apply some Vaseline on a piece of soft cloth and rub on all the water stains on wooden floors and (wooden) furniture you can find.  Leave overnight and wipe clean in the morning. Stain is gone!
4. Wash out and dry your bin, then rub a thin layer of Vaseline at the bottom, sides and around the edges.  Replace your bin liner.  This layer of Vaseline not only aids bin liner removal, but also prevents little bits of stray food and rubbish sticking to the bottom of the bin the next time you empty it.  Do the same for cigarette ashtrays if you smoke.
5. When painting, use Vaseline instead of masking tape, especially in small bendy areas like windows and doors frames etc.
6. Vaseline also works great for the cylinders of your kids' skateboard and roller skates. They roll more smoothly and effectively.
7. Use Vaseline on your shower curtain rods to prevent corrosion, and so that it could run with more ease.
The following four tips relate to Vaseline uses as it relates to personal care and grooming:
8. Put some on your eyebrows to keep them perfectly in place, (for men and women).
9. Add a bit of salt to the Vaseline and exfoliate your hands. They'll feel softer for days to come.
10. Apply some Vaseline to your scalp then wash your hair. Let me explain this one carefully.  Do not rub the Vaseline on your hair!  Part your hair in four or six parts, rub a tiny amount on the part lines in your scalp, then wash your hair normally. This gives your hair instant conditioning, brings out your colour vibrantly, and adds a glorious shine. I've done this hundreds of times and it really works. I've got curly hair and my kids' hair varies from straight to curly.  I use it on them too!
11. Use Vaseline each night on the hard skin on your heels for the next week or so.  Make sure you put on some cotton socks afterwards (you don't want to ruin the bed sheets), then wash off in the morning.  Your heels should be significantly smoother. (This is for both men and women).
If you learned something new from Vaseline uses around the home, please share it on your social networking sites or with someone you know will enjoy it. And don't forget to check out the other articles in our Spring housekeeping series.