During my recent visit to Southern France, I had the misfortune to come across one of the worst public bathroom designs ever. I'd always heard of the toilet in the ground while living in Paris years ago. However, I'd never really experienced  one before. I had to take a photo to convince my friends back home they were real. This public bathroom/toilet spurred me to look around the web to find if anything matched up to it, and I couldn't believe what I found.
As DIY projects' fans will know, we pride ourselves with great designs and super home improvement ideas. Today however, we're going to have some fun and experience the other side of the coin, and show you exactly what can happen without good taste, great insight, and proper planning before the work is carried out. What do you think of these public bathroom designs below? All image links are at the bottom of the page.
Worst public bathrooms ever?
Hole in the ground toilet design
Above is the picture of the toilet I took in Southern France. The worst thing about it is that you can see the evidence left by the person who used the toilet before you (if you look down the hole). It's very uncomfortable to use, and the only thought in your mind as you squat over it is, please don't slip, please don't slip. 
Political statement bathroom design
The reason this toilet made the worst public bathroom designs list was not because it was dirty or exposed, but because it's too close to real life for my liking. I can imagine the politicians doing just that. This literal expression of a virtual reality makes me very uncomfortable indeed.
Wooden hatch toilet design
Is this the best tree they could find to erect the toilet under? It's a pine tree! If you run out of toilet paper you couldn't just pick a leaf, could you? The funny thing about this design failure is the fact that it has a normal, plastic toilet seat. What happens when the guys leave the seat up? Does it fall apart? And what's the toilet pump for? Someone's got a sense of humour here.
Bad taste public bathroom design
The designer of this public bathroom definitely had bad taste. Imagine washing your hands at one of these sinks with your elderly mother using the sink next to yours? How do you even reach the taps if you're short? What man designed this and what was his wife's response?
Short doors toilet design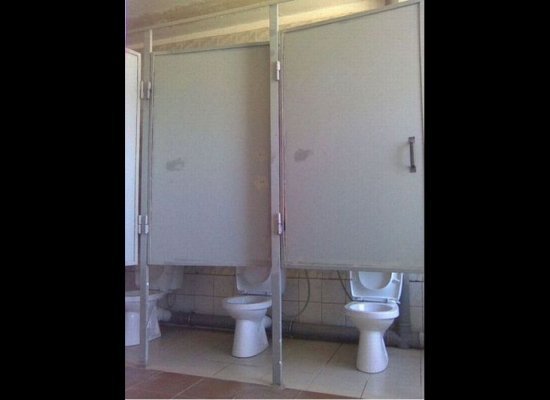 I bet the person who put these doors was a diy novice in desperate need for some diy tutorials. Did anyone take a look after the job was completed? I'll go ahead and assume that men use these toilets (based on the fact the seats are all up). But what happens when they want to number 2?
DIY novice toilet design
I can just imagine their faces after they carefully measured up, bought the door, fitted the door, then realised they couldn't open it to use the toilet! By the look of the dirty floor, it's been used several times, so it doesn't seem to be that big of a problem. Thing is, how do you get into the cubicle?
As we've always said, diy is not just about brute strength. It takes a lot of planning and imagination. The job is half done once it's planned properly. We've talked about measuring three times and cutting once. Women can and do DIY. When it comes to imagination, persistence and skill, the size and strength of the person does not matter at all. The know-how is just a step away. Peruse diy projects home page for superb advice on interior design and extreme home makeovers. 
As always, thanks for stopping by and be sure to subscribe to this blog for upcoming articles on home improvement.
Links for above images
Image 2. http://s3-ak.buzzfed.com/static/imagebuzz/web02/2009/6/26/0/well-i-dunnothanx-to-our-two-party-system-21712-1245990044-1.jpg
Image 3. http://i52.tinypic.com/35dao3n.jpg
Image 4. http://michaelcorey.ntirety.com/Portals/1101/images/funny_bathroom.jpg
Image 5. http://i.huffpost.com/gadgets/slideshows/35180/slide_35180_314189_large.jpg?1320598952564
Image 6. http://pophangover.com/images/worst-toilets-10.jpg