Even though humanity is undoubtedly going forward, the same could not be said about our design taste. Sometimes, the most compelling idea cannot be found by looking into the future, but by gazing into the past. As one of the most important rooms in your home, your bathroom interior is of key significance for the overall impression. In the last few years, the popularity of vintage-styled bathrooms has been on the steady rise and with this in mind, here are few tips and tricks on how to successfully achieve it in your own home.
A guest post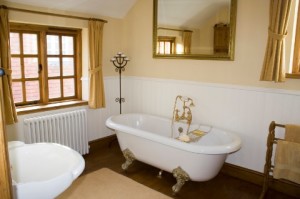 Old-fashioned bathrooms make use of wood
Nothing screams vintage more than wooden furniture, and here, bathrooms are no exception. What you can do here is install genuine dark wood cabinets – or even shelves to make a proper vintage atmosphere. Furthermore, even though PVC for your windows may be by far the most durable and cost effective, it simply goes against everything this style stands for. Because of this, a wooden door and a wooden window frame are non-negotiable must. As for the final touch, add a nice wooden step stool that matches the rest of your bathroom.
The bathroom floor has to look old-fashioned too
As we already mentioned, wood should always be your first choice. Unfortunately, wood and moist air in the bathroom do not go well hand in hand. It would therefore be much better if you were to install marble tiles. When it comes to their shape – even though square is also acceptable – for a vintage bathroom, you would be wise to go for hexagonal. After you have this covered, you will be well on your way to create an old-fashioned bathroom of your dreams.
Decorating the walls of your old-fashioned bathroom
Here, you have two major options. You can either go with wallpaper or paint. As for the color, most people find green to be optimal for their vintage bathroom. However, the most important thing here has nothing to do with color. Namely, there are so many wall ornaments that your vintage bathroom can be decorated with. A simple thematic painting, or a witty sign can make all the necessary difference there is.
Tub and toilet in an old-fashioned bathroom
For your tub, you need not go for anything complicated. Find a simple ceramic tub and place it in your bathroom. On the other hand, the choice of a toilet is a key step in making your bathroom truly vintage. Going for than simple, yet recognizable old-fashion toilet, with separated water tank can make a simple excursion to a bathroom look like a visit to a time machine. Truly a thought that is nearly impossible to top.
Exposed pipes in an old-fashioned bathroom
Another great idea that may help you get the look that you are after lies in leaving your pipes exposed. However, apart from looking good they also need to be in a great working order. You shouldn't put up with any rust, imperfections or leaks, since these elements not only spoil the visual impression of your bathroom but also cause a whole array of problems. This is why the issue of plumbing in your bathroom should always be of utmost importance. This is one area of the home (as well as the electrics) that you shouldn't try to do yourself. Get the job done well.  Get some professional aid.
Lighting solutions
Finally, the issue of lighting is the one that could make or break all of your hard work and as such it deserves your full and undivided attention. First of all, natural light is always welcome, but for privacy reasons large windows are not advisable. However, there are some ways in which, you can increase the illumination level of your bathroom. One of them is by adding a large mirror, which is one way or another a must in a bathroom. As for the artificial light, your most vintage solution could be either a stylish bathroom chandelier or even a cunningly placed wall light.
Where there is a will there is always a way, and if what you aim for is to create an elegant old-fashioned bathroom, there is nothing standing in your way. Your only limitation is your own creativity.  Be systematic, be thorough, and always think outside of the box.